Miss Mexican Fiesta Ambassador Program
Miss Mexican Fiesta 2022 – Nora Godoy-González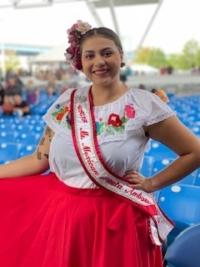 Nora Godoy-González graduated from Marquette University with two Bachelor Degrees in Spanish for the Business Professions and Public Relations. Soon after graduating, she started her role as the Community School Coordinator at H.W. Longfellow by way of Journey House. In her role, she supports school initiatives and priorities by following the school transformational model through the lens of Cultural Relevance, Equity, and Shared Leadership. As the new Ms. Mexican Fiesta Ambassador, Nora plans on aligning her career with the Wisconsin Hispanic Scholarship Foundation, Inc.'s mission to provide scholarships to young Latine individuals who want to pursue higher education.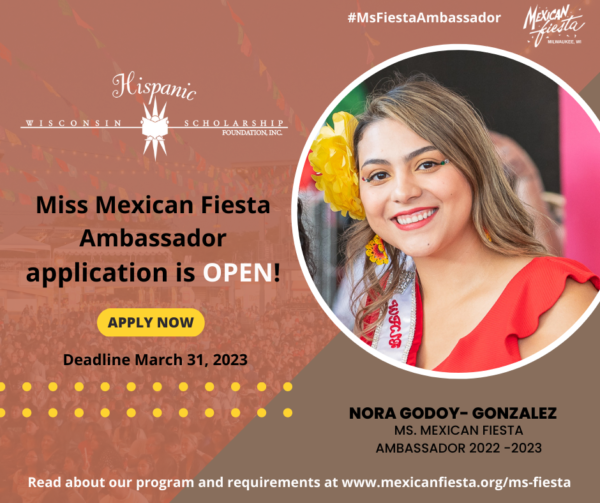 Program Details
The Wisconsin Hispanic Scholarship Foundation, Inc. / Mexican Fiesta is offering young women the opportunity to become a community symbol and carry the title of Ms. Mexican Fiesta Ambassador. Different from the previous Ms. Mexican Fiesta pageant, the ideal candidates must possess the following qualities: professional attitude, confident, goal orientated and educated. She must also enjoy networking events, public speaking, and community involvement. As the title holder of Ms. Mexican Fiesta Ambassador, you will become a role model for many others in the Hispanic community. If this is of interest to you please review the additional qualifications below:
• Contestant must be between the ages of 21-35.
• Contestant Must be Unmarried
• Proficient in Spanish
• No children
• Contestant must be at least 25% of Mexican descent.
Ms. Mexican Fiesta Ambassador will gain experience and knowledge in many different areas. By becoming a recognized representative for Mexican Fiesta and the Wisconsin Hispanic Scholarship Foundation she will be in the position to make a difference in the community and receive a scholarship to pay current or past school expenses, and community notoriety. She will also be committed to attending and positively representing the WHSF/Mexican Fiesta organization at numerous events, from community banquets to parades, and volunteer events throughout the year. These events will provide access to network with top leaders of the state of Wisconsin, and participate in the events mentioned over a twelve-month term.
Participants will be selected for participation upon review of the application. A monetary scholarship will be awarded to the winner.